Our Mission
Our Mission at West Palm Beach Jr. Academy is to engage the youth in all aspects of life, inspiring them to fulfill their God-given potential, empowering them for eternity, and live a selfless life serving others.
West Palm Beach Jr. Academy belongs to the Seventh-day Adventist Church. The Seventh-day Adventist Church runs the second largest parochial school system in the world, with over 8,800 schools, 1.8 million students in over 100 countries as of 2018*. In the State of Florida, Florida Conference of Seventh-day Adventists runs the largest Christian School system with 29 schools across the state.
Engage: Seventh-day Adventist education has been about holistic education since the 1880s (long before many of the current waves of holistic education). As such we have stressed a plurality of mind, body, and soul in all classes (academics, health, God-centered). Learning does not stop outside of the classroom. In addition, keeping up with twenty-first century education, our goal is to make learning student-centered and less teacher-centered. Students will increasingly work on real-life problems instead of textbook driven curriculum.
Inspire: As a Christian School, we recognize that God created each of us uniquely and can use each of us to HIS glory. As a school, it is our desire to help them recognize and then live by this calling and ability that God has placed in them.
The essence of Inspire is Christian Character growth.
Empower: As a Christian School and a Seventh-day Adventist School- we have a mission to the world as reflected in Matthew 28:19-20 and Revelation 14:6-12.
Students exist as purposeful creations of God (not evolution).
We have a duty to tell the world about a loving Savior who has planned a plan of salvation to redeem a fallen world.
We recognize that our duty of education is more than training students for a life as citizens in this world, but that the long term effects of students empowered by the Holy Spirit may impact their own lives and the people they influence in their life for eternity.
We recognize that Jesus is coming back again and that God's people will spend everlasting life with God in restored perfect bodies compared to the degenerated bodies from a result of living in a fallen world in rebellion against God.
Serve: As a Christian School- we recognize two things:
God's kingdom is based on selfless love for others rather than selfish love for ourselves.
We desire that our students will live a life of service in helping others.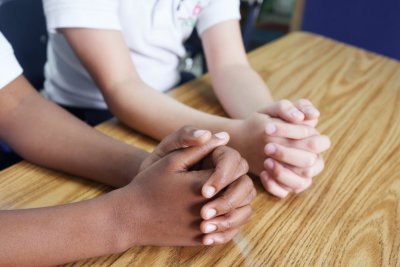 Our Vision
To reveal God's love in all areas of the curriculum and school experience, allowing students the opportunity for decision-making through critical and creative thinking. "It is the work of true education… to train the youth to be thinkers and not mere reflectors of other men's thoughts." (Ellen G. White. Education)
Who We Are
West Palm Beach Jr. Academy opened our doors in 1932. Originally, the school began in a house on Hibiscus Street that also housed the First Seventh-day Adventist Church of West Palm Beach. From here the school relocated to Dock Street, back to Hibiscus, to Georgia Avenue, and in the 1980s to a small two-room building on Charles Street before moving to our present location.
 
We have grown over the years. All classes are Christ-centered. Small class sizes with a nurturing environment and individualized instruction define learning. Today our campus is home to the first Nationally recognized Wildlife Pocket Refuge by the Department of the Interior's United States Fish and Wildlife Service. We are a 1:1 laptop school for grades 3-8 with regular access to technology for all lower grades. Students have access to Microsoft 365, allowing education to transition from teacher-centric education to student-driven collaborative learning. Classrooms use data from the MAPS assessment to individualize instruction to independent student learning needs. Adventist Robotics provides project-based learning in a competitive environment in just one of our extra-curricular programs.
"Quick Statistics on the Seventh-day Adventist Church." Office of Archives, Statistics, and Research of the General Conference of Seventh-day Adventists, October 30, 2019.
Why Choose Us
Here's what makes us different from the rest:
Small Class Sizes
Christ Centered
1:1 laptops (Grades 3-8)
Tech centered
Our Owner
West Palm Beach Jr. Academy is owned and operated by the Florida Conference of Seventh-day Adventists. Florida Conference oversees 29 schools- the largest Christian School system in Florida.